Partners works with the Escalante River Watershed Partnership to promote ecosystem and watershed health through the control of invasive species, and the conservation of native species and their habitats, throughout the Escalante watershed and beyond.
Continued partnerships with local, state, and regional government agencies and conservation organizations to complete a science and monitoring plan inclusive of Indigenous knowledge and aimed at protecting Monument resources and realizing its scientific value.
Learn more about the programs we do in the Monument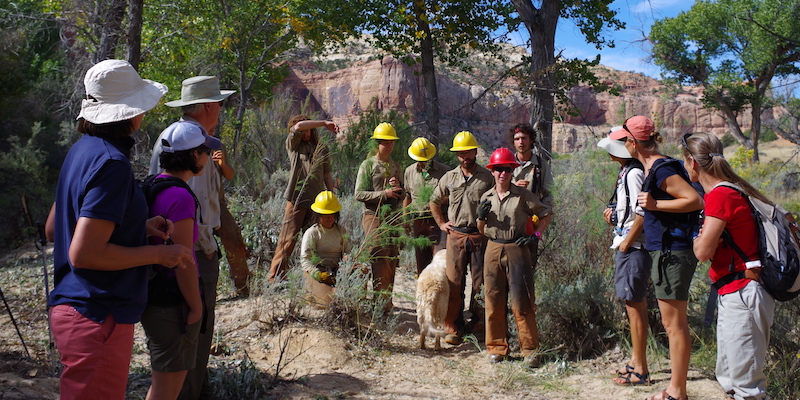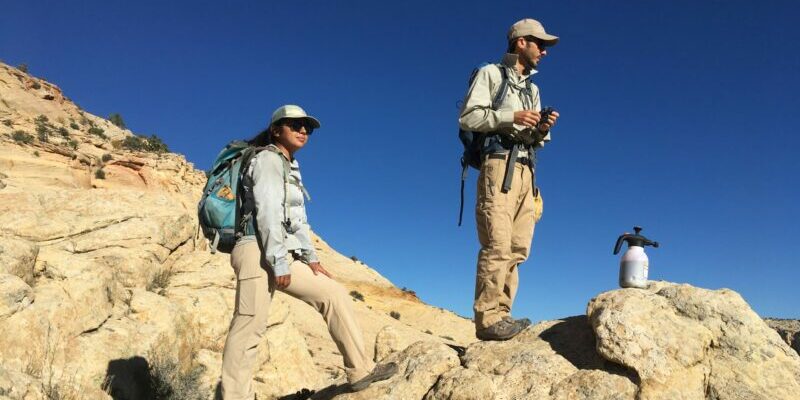 The Escalante River Watershed Partnership (ERWP)
The Escalante River, a unique ribbon of green, winds through a vast desert landscape and is a vital source of water for both natural communities and the residents of the towns of Boulder and Escalante. In 2010, Partners joined a multi-jurisdictional effort to restore the Escalante Watershed and is a key partner in the Escalante River Watershed Partnership (ERWP).
In the fall of 2019, a major milestone was reached when the Escalante River Watershed Partnership completed the initial treatments of Russian olive control on public land in the entire watershed. That's 90 miles of river within a 1.3 million acre watershed! This project was led by GSEP, who worked as project managers, field leadership, and liaisons to the multiple stakeholders. This ten-year effort was one of the largest backcountry restoration projects in the country. In the remote canyons, equipment and supplies were brought in by local horse-packing outfitters. GSEP looks forward to continuing the project as we enter the equally important "Monitoring and Maintenance" phase, which will include retreating this vast area and monitoring progress. Stay tuned for updates as we work to restore these critical riparian areas for the benefit native species, habitat, and our precious water resources.
For more info, visit the ERWP website.
Ways of Understanding and Protecting Land and Water Resources in the Grand Staircase-Escalante Region
On March 3-4, 2022, ERWP and Southern Utah University co-hosted a Grand Staircase-Escalante Symposium: Ways of Understanding and Protecting Land and Water Resources in the Grand Staircase-Escalante Region.
Purpose
Bring together land managers, Tribes, researchers, conservation groups and interested public to gain knowledge and discuss multiple perspectives on land and water, ecosystem management issues, and ways people engage with the landscape.
The landscape of the Grand Staircase-Escalante region, from the high plateaus of the Dixie National Forest and Bryce Canyon National Park down through the benchlands, valleys and canyons of Grand Staircase-Escalante National Monument and Glen Canyon National Recreation Area.
Click here for more information and to view videos of the sessions
Grand Staircase Escalante Partners
Do you have a question about the our conservation efforts? Reach out to us here.
Grand Staircase Escalante Partners is committed to fostering an equitable and inclusive environment in our workplace and across the Monument. We recognize the complex and difficult histories that have shaped American public lands, from dispossession of Native lands and forced removal of indigenous communities to create public lands and parks, to the ongoing exclusion of people of color from conservation and preservation movements.
We acknowledge that the area known as Grand Staircase-Escalante National Monument and its surrounding areas are the ancestral land and historical territory of the Hopi, Zuni, Dine/Navajo, San Juan Southern Paiute, Kaibab Paiute, Ute, Ute Mountain Ute, Jemez Pueblo, and Acoma nations.
We are on a journey to transform our work–to foster diversity through equitable actions that create a just and inclusive environment, within and beyond our organization. Learn more about how we are integrating justice, equity, and inclusion into our work.
Join us in the field or online.
Discover ways to support Partners!
Join our mission. Volunteer, Donate, Advocate. Get Started Today.
Call Anytime: (435) 644-2724