Tribal Consultation and Collaborative Management
Talia Boyd, Cultural Landscapes Program Manager for Grand Canyon Trust hosts these panel discussions for part two, "Native Perspectives—Tribal Consultation and Collaborative Management." Below, you will find recordings of all these events, along with bios of the speakers.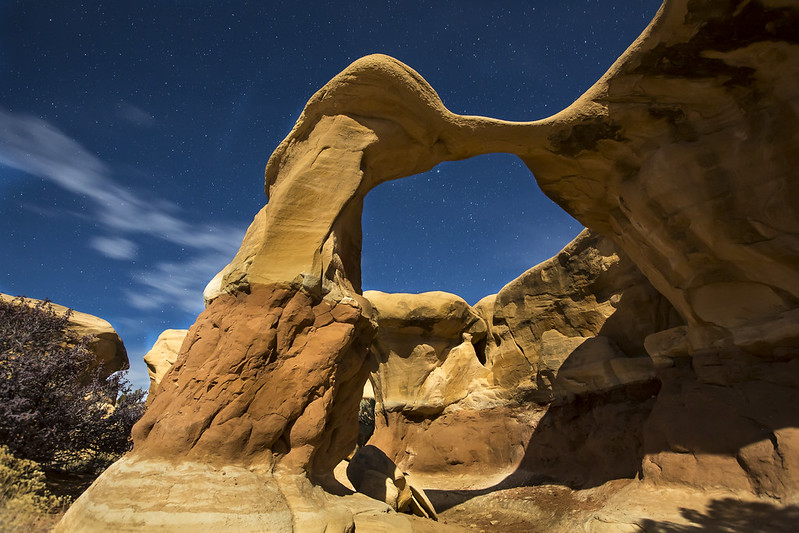 The Grand Staircase-Escalante National Monument has deep historical and modern-day connection to Native peoples, including the Hopi, Zuni, Dine/Navajo, San Juan Southern Paiute, Kaibab Paiute, Ute, Ute Mountain Ute, Tesuque Pueblo, Jemez Pueblo, and Acoma nations.
Our mission begins with "honoring the past" of this Monument. Over the years, Partners has worked and collaborated on research projects in the Monument that include cataloging hundreds of Native archeological sites, and dozens of oral histories. You can find much of this work here.
The next part of our mission is about "safeguarding the future" of this Monument. In this regard, we recognize the importance of including more more Native knowledge and participation of Native peoples in land management. With over five million Native peoples in the U.S., we are committed to doing more to include these voices in our work and practices. We are partnering with the Grand Canyon Trust to bring you a five-part teach-in series on: "Native Perspectives—on Public Land and Tribal Preservation."
Teach-in #1 | Native Perspectives: Laws and Policies of Tribal Consultation
In the first session of our five-part teach-in series, Talia Boyd hosted Native experts Judith Le Blanc, Theresa Pasqual, and Ethel Branch as they discussed laws and policies shaping tribal consultation, their limitations, and on-the-ground applications.
Judith Le Blanc
Judith Le Blanc is a citizen of the Caddo Tribe of Oklahoma and director of the Native Organizers Alliance (NOA), a national Native training and organizing network. In the last 10 years, NOA has built relationships with tribes, traditional societies, and grassroots community groups in Native communities and on reservations through Native community organizing training, strategic campaign planning, and support.
Theresa Pasqual
Theresa Pasqual is the Director of Acoma's Historic Preservation Office. Her work concentrates on protecting the cultural, archaeological, and historical resources of the Pueblo. She successfully led a three-year, multi-tribal effort in the nomination and designation of Mt. Taylor to the New Mexico State Register of Cultural Properties as a Traditional Cultural Property (TCP) — affirmed by the NM State Supreme Court in February 2014.
Ethel Branch
Ethel Branch joined Kanji & Katzen in 2012 as an associate. In 2015 she was appointed as the 11th Attorney General of the Navajo Nation. Ethel was born and raised on the Navajo Nation, where she is an enrolled member. Ethel graduated from Harvard College in 2001, earning her A.B. cum laude in history. In 2008 she received a J.D. from Harvard Law School and an M.P.P. from the Harvard Kennedy School of Government.
Teach-in #2 | Native Perspectives: Free, Prior, and Informed Consent
In the second session of our five-part teach-in series, Talia Boyd hosted Native experts Janene Yazzie, June Lorenzo, and Brett Lee Shelton as they discussed free, prior, and informed consent, an internationally recognized approach that encourages meaningful consultation.
June Lorenzo
June Lorenzo, Laguna Pueblo and Diné, works with community organizations and Indigenous nonprofits to address uranium mining legacy issues and resistance to new mining, sacred landscape protection, and repatriation of cultural patrimony. She advocates in tribal and domestic courts, as well as before legislative and international human rights bodies. She holds a Ph.D. in justice studies from Arizona State University and a J.D. from Cornell University.
Janene Yazzie
Janene Yazzie is the program manager of Sustainable Community Development with the International Indian Treaty Council. She has worked on climate change, water security, food security, broadband development, energy development, and nation-building with Indigenous communities for the past 12 years.
Brett Lee Shelton
Brett Lee Shelton is a member of the Oglala Sioux Tribe and also has Itazipco Lakota and Cheyenne ancestors. He is currently a staff attorney at Native American Rights Fund where his work focuses on the Indigenous Peacemaking Initiative, boarding schools, and sacred places. He received his law degree from Stanford University, and a Master of Arts from the University of Kansas.
Teach-in #3 | Native Perspectives: Exercising Tribal Sovereignty
In the third session of our five-part teach-in series, Talia Boyd hosted Native experts Vanessa Nosie, Terry Keyanna, and Amy Juan as they discussed how they're speaking up for tribal sovereignty.
Vanessa Nosie
Vanessa Nosie is a loving mother of four daughters and a community organizer. Vanessa holds positions including the co-chair of Baase Sacred Organization, member of the Mountain of the Spirit Runners, founding member and youth advisor of Native Youth Unite, member of the Poor People's Campaign: A National Call for Moral Revival, and an organizing member of Apache Stronghold.
Teracita "Terry" Keyanna
Teracita "Terry" Keyanna has been an advocate and dedicated volunteer supporting Navajo elders for over 20 years. She currently serves as the liaison for the Red Water Pond Community Association, where she manages community improvement projects, such as a repository for uranium waste that has caused chronic health issues in her community.
Amy Juan
Amy Juan is from the Tohono O'odham Nation, which shares 75 miles of international border with the United States and Mexico. She is the founder of the Tohono O'odham Hemajkam Rights Network and currently works with the International Indian Treaty Council as the Arizona community and tribal liaison.
Teach-in #4 | Native Perspectives: Regenerative Justice, Rights of Nature, and Land Back
In the fourth session of our five-part teach-in series, Talia Boyd hosted Native experts, Shannon O'Loughlin, Joe Tenorio, and Deon Ben as they discussed regenerative justice, rights of nature, and land back.
Teach-in #5 | Native Perspectives: The Future of Bears Ears and Grand Staircase
In the fifth session of our five-part teach-in series, Talia Boyd hosted Native experts, Regina Lopez-Whiteskunk, Davina Smith, and Carleton Bowekaty as they discuss the future of Bears Ears and Grand Staircase-Escalante national monuments.
The Native Perspectives Teach-In Series has been made possible in part by a grant from Utah Humanities and the National Endowment for the Humanities: Democracy demands wisdom.