To celebrate the 25th Anniversary of Grand Staircase-Escalante National Monument, Partners' hosted a series of live discussions on the back patio of our Escalante headquarters. Below are the recordings for the live event.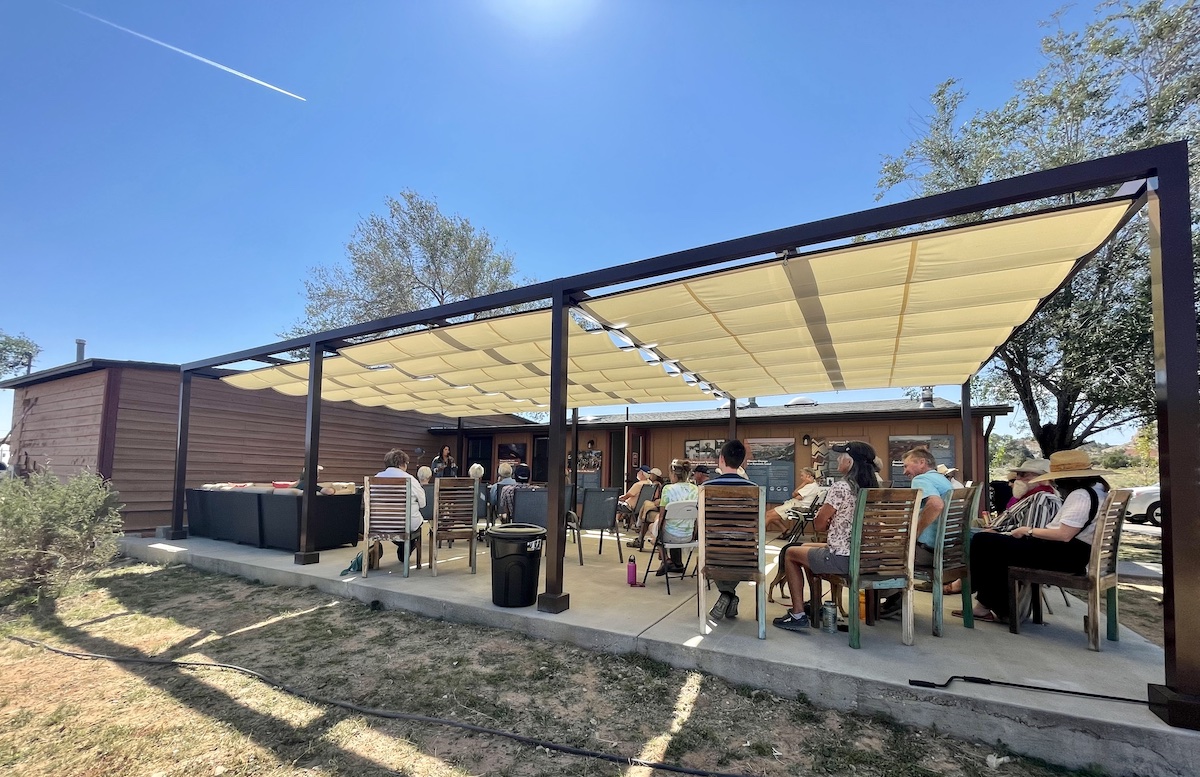 Riparian Resources of Grand Staircase-Escalante National Monument by Mike Scott, PhD
Dr. Scott is a research ecologist who spent 26 years working with USGS, and for the past 10 years was an adjunct associate professor at Utah State. He is currently a faculty affiliate with Colorado State University. Dr. Scott has worked alongside Partners on the Escalante River Watershed Project (ERWP).
Indigenous Peoples of Grand Staircase by Davina Smith
Davina Smith is a member of the Diné (Navajo) tribe. Davina Smith's personal mission is advocating for Native families, in both her rural and urban communities, in addition to preserving and protecting the cultural and natural resources of ancestral Native American lands to benefit and bring healing to people and the Earth. Davina has had a plethora of work experience in Salt Lake City such as, the former Executive Director for SLC Air Protectors, Director of Operations for Utah Dine Bikeyah (UDB), American Indian Education Coordinator for Salt Lake School District, Fourth Street Clinic, and Program Director for the American Indian Teacher Training Program (AITTP) at the University of Utah and Arizona State University. She is currently the Vice President of IndigiCANN (Indigenous Connecting All Nations Network) and CEO of Haseya Native Initiatives LLC.
Neak is a cultural anthropologist and educator hailing from Montana, with interludes in Maine and southern California for their undergraduate and graduate education. They enjoy facilitating young people's growth as learners and as people, whether in the classroom or on the archery range. Their approach to teaching is guided by an eclectic mix of experiences as rock climbing and archery coach, 4-H volunteer leader, K-8 ecology educator, and university teaching assistant. Neak holds a Masters degree in Cultural Anthropology and is working toward a PhD in the same field. In their spare time, Neak can be found running, biking, swimming, climbing, hiking with their dog, or searching for new activities that involve sweating outside.
Archaeology within Grand Staircase-Escalante National Monument by Barbara Frank
Barbara moved to Holladay, Utah with her family in 1969. Her father immediately bought a four-wheel drive Jeep Wagoneer, and they began to travel down to southern Utah for camping trips in the National Parks, Monuments, and public lands. These four-wheeled adventures were followed by backpacking trips into southern Utah during her teenage years, including many into the area which subsequently became the Grand Staircase National Monument. She received her BA from Mt. Holyoke College and began her career as an archeologist by going to field school with the University of Utah at the base of the Henry Mountains. Since the early 1980s, she has worked as a professional archaeologist with cultural resource contract companies, eventually taking over the running of Intersearch, Inc., a small firm in Cedar City, Utah.  Her work has included 20 years as the Assistant Director and Director of the Southern Utah University Archaeology Field School and serving as the Curator of the SUU Archaeology Repository since 1995. Her fields of interest include Virgin Anasazi, Fremont, and Southern Paiute archaeology.
Become a Volunteer Today
If you are interested in staying in the loop about volunteer events, you can sign up for this opportunity by clicking the button below. When you are registered, we will send out a monthly email to those in the group about upcoming opportunities!
Register to Volunteer Today