Communications Manager
Grand Staircase Escalante Partners
Full position description is listed below. To apply, please send a resume and cover letter to applicant@gsenm.org. The position is open until filled.
Apply Now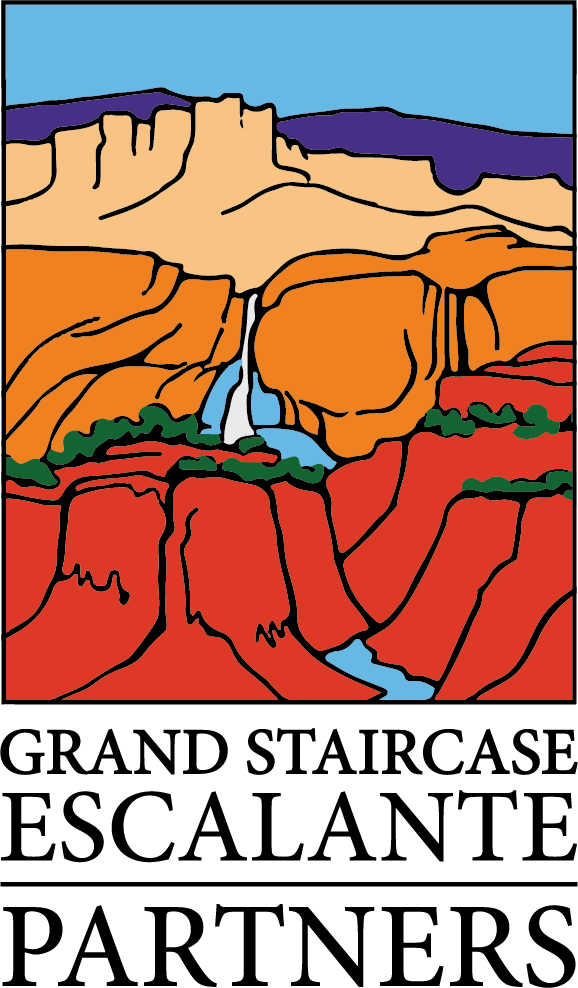 Our Mission:
Honoring the past and safeguarding the future of Grand Staircase-Escalante National Monument through science, conservation, and education.
For more information about our organization visit gsenm.org. Resumes will be accepted until position is filled.
The pIntroduction to Grand Staircase Escalante Partners
Grand Staircase Escalante Partners (GSEP) is a non-profit 501(c)(3) organization with offices located in Kanab and Escalante, Utah. Our mission is to honor the past and safeguard the future of Grand Staircase-Escalante National Monument through science, conservation, and education. Our organization allocates resources to support scientific research, volunteer projects, educational programs and conservation projects in the Grand Staircase region. We also advocate for co-stewardship with our tribal partners and a conservation priority in Monument management decisions. 
Justice, Diversity, Equity, and Inclusion 
GSEP is an Equal Opportunity Employer with a commitment to making our programs and services accessible to all. We value diversity and do not permit any discrimination against applicants, employees, or volunteers on the basis of race, ethnicity, national origin, gender, age, religion, sexual orientation, marital status, veteran status, medical condition, or disability, or any other status protected by applicable law or statue in any of our policies or programs. We intentionally work to foster a culture of inclusion with openness, honesty, visibility, creativity, and trust as core values.  
 An opportunity to work with us, and support Grand Staircase-Escalante National Monument! 
 GSEP is seeking a creative and innovative Communications Manager to develop and implement our communications strategy, including preparing and disseminating e-blasts, newsletters, donor communications, marketing materials, and reports. The CM will also manage the organization's communications channels and digital platforms, including email, website, and social media accounts. We are seeking a candidate who has demonstrated success in developing impactful and engaging communications and is passionate about the protection of public lands. 
 The Job, in a nutshell.
Creating communication strategies for GSEP programs, projects, events, and initiatives

Developing communication campaigns that raise awareness and promote our organization's mission, vision, and strategic plan 

Managing and overseeing the creation of marketing and communications deliverables

Establishing internal communications processes to ensure that GSEP staff and board members are informed and updated on the status of each project/initiative

Executing digital fundraising and engagement campaigns via email, website, and social media
What we're looking for. Does this sound like you?
A love for conservation and public lands

Educational degree or *experience and/or skills developed in Journalism, Public Relations, Communications, or Marketing

Knowledge and competency with website management 

Demonstrated results in developing and implementing communications plans

Strong attention to detail and proven project management skills

Excellent written and verbal communication skills and graphic design skills

Proficiency with Microsoft Office Suite (PowerPoint, Excel, and Word)
 *Experience includes lived experience, traditional knowledge, work and volunteer experience, academic coursework, as well as other lived experience, skills and qualifications.
More important deets … 
Location: GSEP offices are based in Utah: Salt Lake City,  Kanab, and Escalante; however, we are accepting applications from remote candidates, with a preference for those living in Utah. 
Hours: Full-time with occasional weekend or evening work. 
Compensation:  $50,000 – $65,000 DOE. 
 Benefits: This position will be eligible for paid holiday time off and paid vacation and sick leave. GSEP also offers 401k retirement options and health insurance.
Still interested? Please apply!
If you're excited about the position and think you may be a good candidate, we encourage you to apply, even if you don't check every box.
Application Process: Please send a resume and cover letter to applicant@gsenm.org. Applications will be accepted until the position is filled. The ideal start date for the candidate is October 1, 2023.